EcoShe - Revolution
An initiative by S.H.E. society and PFFJ
(In partnership with EcoFemme for Punjab)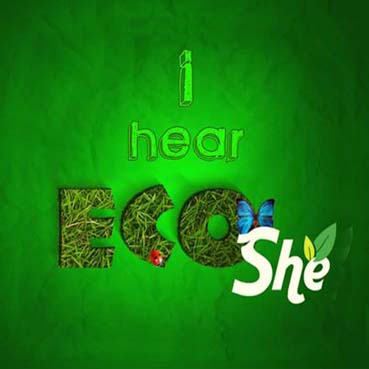 "EcoShe - Revolution"
is an initiative by
Mrs. Jeevan Jyot Kaur, in partnership with EcoFemme.
Jeevan Jyot, who is the president of PFFJ and chairperson of S.H.E. society which is a 23 years old philanthropic organization, mobilizing resources for the underprivileged sector and providing succour to the needy.
"EcoShe - Revolution" by Jeevan Jyot is an all women's project of the women, by the women, for the women rising from the holy city of Amritsar, Punjab, Haryana, Bihar and eventually reaching women around the world. We are committed to offering menstrual health education that is responsive to the needs of diverse populations. We, at EcoShe promote and revitalize menstrual practices that are healthy, dignified, affordable and eco positive.
Our Mission: is to trigger a major shift in menstrual health management space resulting in a more clean and healthy environment.
Our Aim: a transformed world in which girls and women are:
Equipped with knowledge, resource and skills to live in harmony with their bodies.
Honoured and free from shame, complexes and oppression.
What do we do?
Environment: We promote two types of reusable pads as an eco-friendly alternative to disposable products. There are healthy for us as well as our planet.
Livelihood: Our cloth pads are produced by a women's group in India and ethically traded across the globe to provide a genuine income generation opportunity for women from underprivileged sector.
Education: We work with schools, colleges, institutions and villages to deliver educational programs that foster a healthy, responsible and dignified menstrual experience for women throughout rural India in general, and underprivileged sector in particular.
PROBLEM ADDRESSED

EcoShe also aware about the harmful implication of using disposable menstrual products on our health the environment. The pads we use are 90% plastic; hence a major cause of genital cancer and a single pad takes 500 - 800 years to decompose. Do you know that one disposable pad is equal to 4 plastic bags? Convenience at what cost?
'A healthy alternative under project EcoShe' washable cloth pad and reusable pads.
Reusable Cloths pads by EcoFemme :

Why makes the switch?
All product are made of cotton flannel and ultra-absorbent, unbleached cotton flannel layers inside.
Leak-proof.
Washable cloth pad to save money : They are cost effective as they can last upto 3 years if taken care of properly.
Washable cloth pad for the Earth : They are ecofriendly..
Washable cloth pad for your health: They are more healthy as there is no risk of infection and irritation because of lack of synthetic ingredients like chlorine, dioxin, fragrances.
Washable cloth pad to empower women:

Livelihood
Education
Dignity
Unity

Carry and store pads when not in use in a clean dried pads.


Saafkins - The world's first and only permanent disinfectant in the form of a textile. Saafkins by livinguardTM has been tested and certified by laboratories across the world to make the world's first washable, reusable, bacteria/yeast killing, 85% biodegrables sanitary napkins. Hence they nontoxic for skin contact.

Why makes the switch?
Affordability
No leakage/staining
No obvious odour
Long lasting absorbency
Reusability
Recently, Project EcoShe was recommended for Punjab jails by the jail Minister S. Sukhjinder Singh Randhawa and the D.G.P. Mr. Suresh Arorathe females jail inmates in 13 jails all over Punjab were educated under "EchoShe two hour's Menstrual Health Program" about the harmful implications of the disposable sanitary pads. Approximately 1500 EcoShe Reusable Sanitary Pad Kits were distributed to the female jail inmates. The usage of reusable sanitary pads would immensely help and reducing the sanitary waste of the jails. The female inmates after attending the session agreed that in their choice of menstrual products, women and girls have the chance to make a difference to the disturbance in ecological systems caused by humans. By opting for a reusable menstrual product, or a disposable one which does not contain plastic, bleaches or dyes, a lower environmental impact can be achieved.